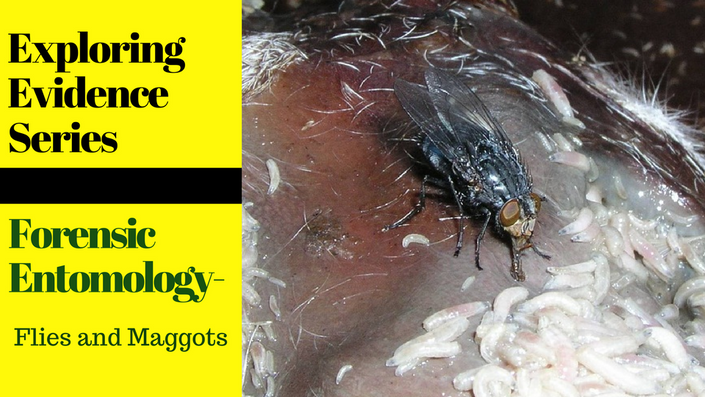 Exploring Evidence Series: Forensic Entomology--Maggots
Just a little bit about maggots and forensic evidence
Flies and Maggots.
Just the sight of maggots sends chills up your spine, right? But maggots have a special place in a forensic investigation. In fact, maggots can provide valuable information such as the time of death of the decedent.
This mini course, part of our Exploring Evidence Series, provides an introduction to the wonderful world of maggots!
Yep, you read that right!
Once a person dies, his or her body starts to decompose, and depending upon the environmental conditions, the body will decompose at various rates and go through various different stages. By collecting insects feeding on the body, found on the body, and surrounding the body, investigators are able to determine estimated time of death.
Flies are great at discovering dead bodies, often time before beetles arrive. However, it is the blow fly that is usually associated with a decaying body. Blow flies usually arrive in the early stages of decomposition and can provide the most accurate estimated time of death.
After completing this course, you will be able to discuss and:
observe the effects of maggot activity on decedent to improve your learning process
explain why entomology evidence is important in an investigation and how it can help prove/disprove testimony
gain a basic understanding of forensic entomology and improve working knowledge
Course includes practicums, quiz, discussion activities, and case studies.

Please note this course includes pictures some may consider disturbing or graphic in nature.
Your Instructor
Terri has been teaching forensic science and criminal justice courses for over 15 years. Her education and experience includes business management, science, law enforcement, and forensics. She has a MS in Forensic Science (emphasis in Investigations) and loves to teach and educate others in forensic science and criminal justice topics and techniques. She is the founder of Forensic Training Unlimited LLC (FTU), which is located in Southern California. FTU offers hands-on training, workshops, seminars, and online training courses.
She has several POST certificates, has trained with Los Angeles County Coroner, Orange County (CA) Sheriff's Department, and holds professional memberships in Southern California Association of Fingerprint Officers, International Association for Identification, Latino Peace Officers Association, and the California State Division of the International Association of Identification.
She has presented at the International Association for Identification, served as a guest lecturer in forensic and criminal justice topics, as an Adjunct Instructor at several colleges and universities.
Terri, who holds teaching credentials, is passionate about bringing students closer to their forensic career goals.
Stay Connected! Get Trained!

Course Curriculum
Introduction to Course
Available in days
days after you enroll
What is Forensic Entomology?
Available in days
days after you enroll
Collecting Entomological Evidence
Available in days
days after you enroll