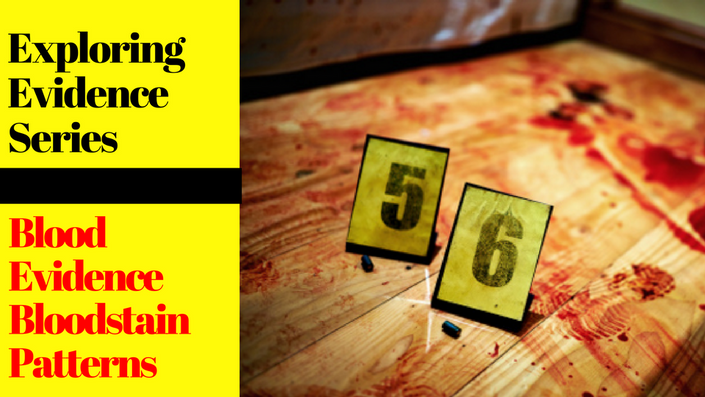 Exploring Evidence Series: Blood Evidence and Bloodstain Patterns
What Blood Stain Evidence Tells About a Scene
Blood Evidence and Bloodstain Patterns
This course is part of our Exploring Evidence Series--a set of mini courses that highlight specific topics within a particular forensic discipline.
This mini course focuses upon blood evidence and bloodstain patterns both which provide invaluable information during the investigation process:
What happened at the crime scene?
Was the victim moved?
Where is the source of the bloodstain pattern?
Was the victim shot?
Was the victim stabbed?
What is the origin of the blood?
Does the blood evidence tell a different story than a witness statement?
Course Includes:
blood evidence lecture
scene photos
(2) case studies
(1) practicum
This mini course is ideal for anyone interested in learning more about blood evidence and bloodstain patterns.
Your Instructor
Terri has been teaching forensic science and criminal justice courses for over 15 years. Her education and experience includes business management, science, law enforcement, and forensics. She has a MS in Forensic Science (emphasis in Investigations) and loves to teach and educate others in forensic science and criminal justice topics and techniques. She is the founder of Forensic Training Unlimited LLC (FTU), which is located in Southern California. FTU offers hands-on training, workshops, seminars, and online training courses.
She has several POST certificates, has trained with Los Angeles County Coroner, Orange County (CA) Sheriff's Department, and holds professional memberships in Southern California Association of Fingerprint Officers, International Association for Identification, Latino Peace Officers Association, and the California State Division of the International Association of Identification.
She has presented at the International Association for Identification, served as a guest lecturer in forensic and criminal justice topics, as an Adjunct Instructor at several colleges and universities.
Terri, who holds teaching credentials, is passionate about bringing students closer to their forensic career goals.
Stay Connected! Get Trained!

Course Curriculum
Introduction
Available in days
days after you enroll
Disclaimer--Please Read
Available in days
days after you enroll
Blood Stain Evidence
Available in days
days after you enroll